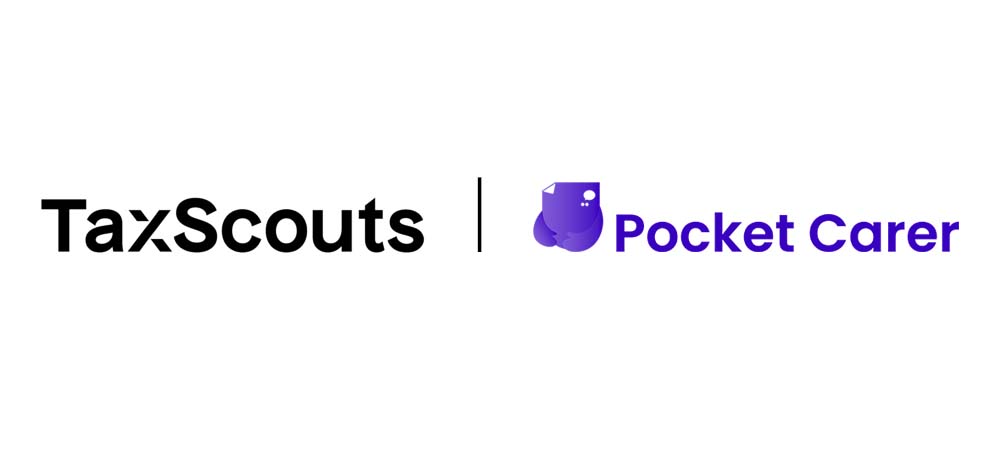 Filing your own self-assessment tax return sounds daunting for those embarking on their new venture as a self-employed carer.  However, the PocketCarer app has been designed to help ease the pressure of submitting tax returns for self-employed carers. The app features a handy income and expenditure section to easily track business transactions, making your end of year assessment so much simpler to complete.
Simplify your tax returns with PocketCarer and TaxScouts
PocketCarer has partnered with TaxScouts to simplify your self-assessment tax returns even more. Subscribing to the Pocket Carer app will provide you with all the tools and templates required to help you keep your records in order.  PocketCarer does not assist with the submission of self-assessments to HMRC, and that's why we have partnered with TaxScouts.
TaxScouts matches you with accredited UK accountants
TaxScouts is an online tax service that aims to simplify the personal accounting process. They believe that completing your self-assessment tax returns should be as easy as buying a pair of socks. However, the process can be unnecessarily complicated when you do it yourself, and often overpriced when you seek professional help. TaxScouts matches sole traders with accredited UK accountants, so your tax returns are filed online, fast and accurately, as well as providing expert tax advice.  Together with Pocket Carer, Tax Scouts ensures the process of completing your self-assessment is smooth, accurate and fast.
TaxScouts helps you keep your tax bill low
TaxScouts accounting partners will help to make sure that you're claiming all eligible allowances, reliefs and expenses to keep your tax bill as low as possible. Once your tax return is ready to submit to HMRC, you can approve it, and your TaxScouts accountant will file it for you. It really is that simple!
TaxScouts offers a professional self-assessment advice service
If you don't need to file a tax return but you're looking for some professional tax advice, you can use the TaxScouts tax advice service. Discuss all your self-employed carer tax queries via phone or video consultation and receive a written summary, whenever you need it.
Pocket Carer and TaxScouts are the perfect partnership
Your PocketCarer app and TaxScouts services go hand-in-hand. Through the PocketCarer app, your income and expenditure records can be downloaded into PDF format and emailed to your dedicated self-employed carer's tax return accountant at TaxScouts. Being online platforms, the transferring of information between PocketCarer and TaxScouts is simple, safer, and less time consuming than having the hassle of spreadsheets or paper documents.
PocketCarer subscribers get a 10% discount with Tax Scouts
Download the PocketCarer app for free in the App Store or Play Store today. Subscribe to get access to the full range of templates and features for just £7.99/month or £79.99/annually.
For a one-off payment of just £134 (normally £149) self-employed carers will have access to the TaxScouts tax return service. Get your self assessment completed by an accredited accountant; simple, fast, all online! Click here to get on top of your tax returns today
Download the PocketCarer app FREE today