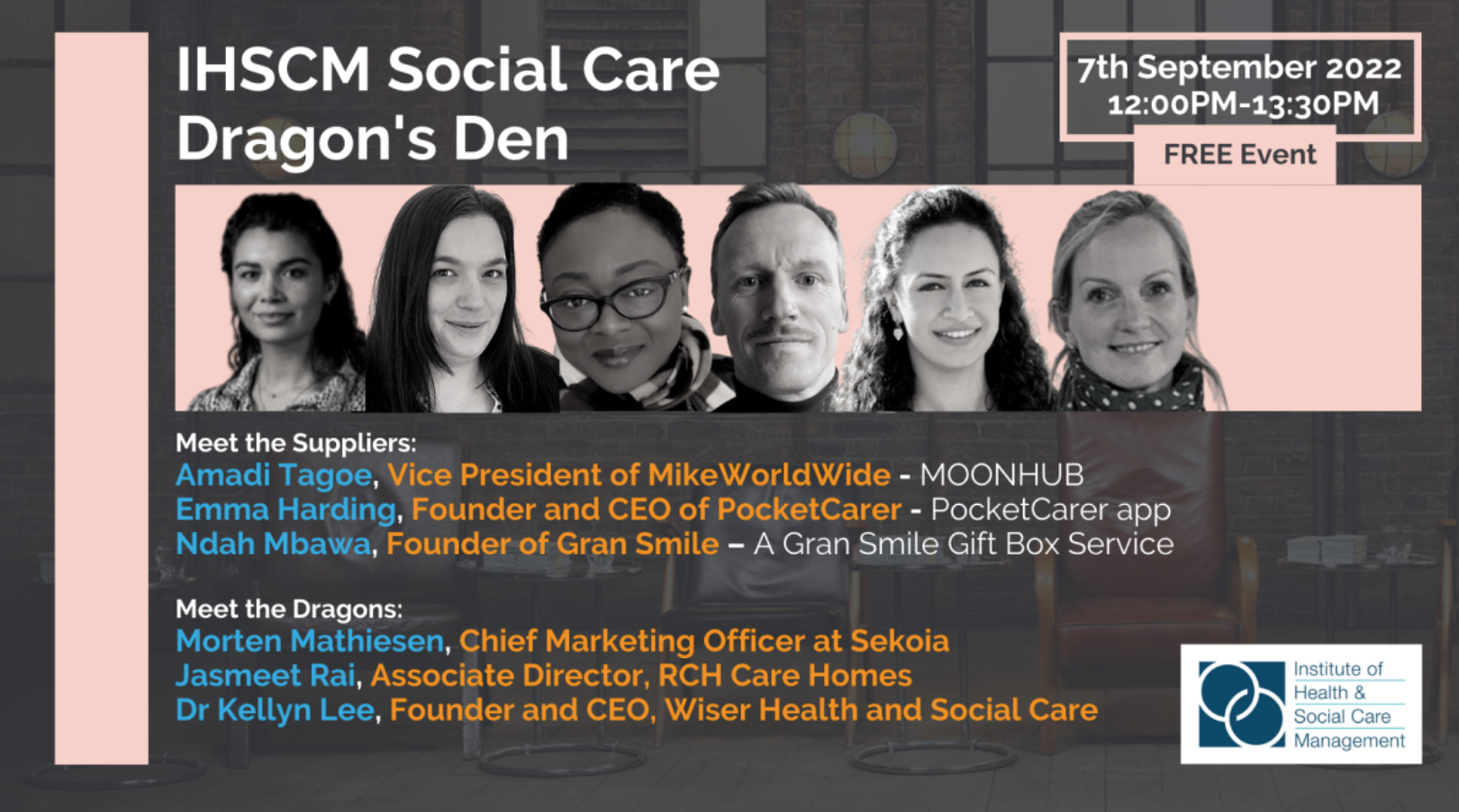 Pocket Carer founder, Emma Harding, has been selected to take part in The Institute of Health & Social Care Management's (IHSCM) 'Dragon's Den' event on 7th September 2022.  The online event will see social care suppliers of services or technology pitch to the Dragons for 5 minutes, after which, Dragons will give honest feedback and guidance for a further 10 minutes. After all pitches have taken place, the overall winner will be announced.
The Dragons taking part are Morten Mathiesen, Chief Marketing Officer at Sekoia; Jasmeet Rai, Associate Director, RCH Care Homes; Dr Kellyn Lee, Founder and CEO, Wiser Health and Social Care; Phil Harper, Senior Lecturer in Health & Care Management, Arden University, and Sam Hussain, Founder and CEO, Log My Care.
Emma commented: "Having worked in the health and social care sector for the previous 15 years, the last 5 of which as a self-employed carer, I started to identify several issues that were making my job more difficult and time consuming. I was using several different apps for invoicing, managing income and expenditure etc, along with searching for contract templates to use with my clients, and paperwork templates such as risk assessments, medication records and others which had to be downloaded, printed and kept in a safe place.  I decided there had to be an easier way, and while there were plenty of care management apps for businesses, I struggled to find one for self-employed carers. This led to the development of Pocket Carer, an all in one app that offers self-employed carers everything they need to successfully run their business and be their own boss.
"I'm both excited and nervous at being selected to pitch at The Institute of Health & Social Care Management event, as this will be an ideal opportunity to showcase the fantastic features the Pocket Carer app offers, which all goes to making the professional life of a self-employed carer much easier to run."
Download the PocketCarer app FREE today